Major Winter Storm Possible in South Jersey: The Latest on Timing & Expected Accumulation
NWS Philadelphia/Mt. Holly
Lite Rock Meteorologist Dan Zarrow has been watching forecast models and approaching weather systems for the 24 to 48 period beginning early Monday morning, and he's now concerned with the possibility of a major winter storm in South Jersey and blizzard conditions in other parts of the state.
Here are Dan's thoughts on the storm times, impact and possible accumulations amounts in Atlantic, Cape May and lower Ocean Counties,  and the rest of New Jersey, as of Sunday morning.
Meteorologists across the Northeast US got a nasty surprise yesterday afternoon, as computer models dramatically increased the intensity of Monday's winter storm. There is still a lot of uncertainty surrounding this storm. Potential snow totals for New Jersey literally have a range from 2 inches to well over 2 feet. After watching several more runs of several more models, it's now time to pull the trigger on a forecast that could bury New Jersey in snow by Tuesday morning.
Blizzard Watch
The National Weather Service has issued a Blizzard Watch for Bergen, Hudson Southern Passaic, Essex, Union, Middlesex, Monmouth, and Ocean counties from Monday afternoon through Tuesday. A Winter Storm Watch has been issued for coastal South Jersey and the rest of New Jersey for the same time frame. A watch means that potentially dangerous wintry conditions, including several inches of accumulating snow and gusty winds, are expected within 24-48 hours.
Timing
Sunday will be quiet and mild, with temperatures well above freezing for the afternoon. The winter storm that follows is going to be prolonged and complicated.
Snowflakes and raindrops are expected to start in New Jersey after midnight, and last through the day on Monday. The Monday morning commute could be quite tricky, with slippery roads, falling snow, and gusty winds. Several inches of snow could accumulate throughout the day on Monday… However, the light to occasionally moderate snow and rain that falls on Monday morning and through the afternoon is NOT the "main event".
As the system dives off-shore late Monday, it will pick up moisture from the Atlantic Ocean and rapidly intensify. The heaviest snow bands are expected to move back on-shore around the 7 PM Monday to 7 AM Tuesday time frame. Over an inch an hour could fall during this time, causing near whiteout conditions and accumulating snowfall very quickly. Snow could continue as late as Tuesday afternoon before this storm moves far enough away to leave New Jersey alone.
Temperatures
Temperatures across the Garden State will be above freezing for part of Monday, lending to the possibility of wintry mix or just plain rain, especially in South Jersey and along the coast. By evening, however, we should be cold enough to warrant all (or almost all) snow in this forecast.
Accumulations
As I mentioned above, literally anywhere from 2 inches to 2 feet of accumulation are possible from this storm. The GFS and Euro forecast models are now on-board with the heavier snowfall, while the NAM lags behind. That's not really a concern, however, as the NAM usually is the laggard with big storms such as this one.
I know you want to see snowfall numbers, but that's a near-impossible task at the moment, given the huge spread of model output. Obviously, I'm writing this article because this system is forecast to have significant, major winter weather impacts on New Jersey… so we can safely discard the possibility of only a 2-inch storm. The heaviest accumulations will actually be northeast of New Jersey, across Long Island and New England – in fact, a Blizzard Watch is in effect from Hartford, CT up through Boston, MA.
The bottom line is this… a significant, possibly crippling storm is expected Monday night into Tuesday. Confidence is mounting that Northeast New Jersey is expected to receive at least 10 inches of snow, but measurements in "feet" instead of "inches" is a definite possibility. The rest of the state is expected to receive at least 6 inches of snow. I hesitate to even mention the worst-case scenario, but upwards of 2-3 feet of snow accumulation will be possible. That would register as a downright historic storm, especially since meteorologists only gained clarity on the severity of the storm about 48 hours beforehand.
Here is the latest snowfall accumulation forecast from the National Weather Service: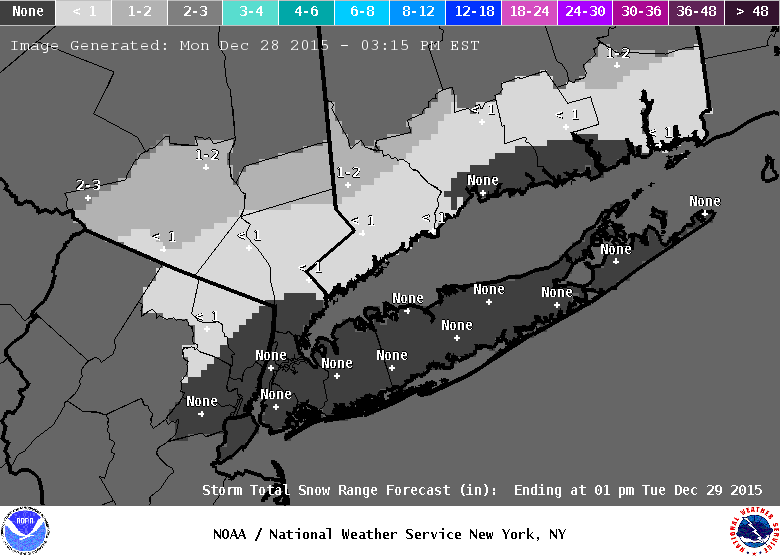 Other Impacts
Strong wind gusts over 30 miles per hour will be possible. Blowing and drifting snow, highly reduced visibility, and blizzard conditions will be possible Monday night and Tuesday morning.
Coastal flooding is a possibility, but I don't think the orientation of the storm is right. I admittedly haven't looked into much guidance about this aspect, so expect more information in future updates.
Summary
A winter storm will affect New Jersey starting early Monday morning and lasting through Tuesday.
Snowfall (and wintry mix and rain) during the day on Monday will range from light to moderate. A few inches of accumulation will be possible, but this is not the storm's "prime time" impact period.
From 7 PM Monday to 7 AM Tuesday, the heaviest snow bands are expected to push through New Jersey. Over an inch an hour snowfall rate is possible.
Snow accumulation for New Jersey will range from at least 6-10 inches to at most 2-3 feet.
While there is still a great deal of uncertainty about the details of this system, it is becoming clear that this storm will have major impacts for New Jersey.
My wife and I went to the grocery store and liquor store late last night for our winter storm supplies. Time for the rest of New Jersey to do the same.
It is critically important that everyone in New Jersey watch this forecast carefully as the storm approaches.